If the time has come to replace those old rusty entrance gates, there are many design options to consider and you should be looking to install automated gates, which is very much the norm nowadays. As you would expect, there are no off-the-shelf solutions with entrance gates, rather the units are designed, fabricated and installed by a custom gate supplier, and with that in mind, here are a few important aspects of gate design to consider.
The Span
The distance across your driveway is the span; a narrow driveway, for example, might be best suited to twin swing gates that meet in the centre, while a wide entrance would be ideal for a single sliding gate. The only way to find out what is the best design is to call in an expert and in case you're wondering if there are specialists in gate automation near you, Google is your best friend and will put you in touch with a leading custom gate company and they have all the solutions.
The Weight
This is a major concern, the heavier the gates, the more robust the tracking and motor must be. Heavy gates should be of the sliding variety, which offers the best in terms of support and there are upper weight limits on swing gates, for obvious reasons. Many homeowners opt for aluminium for this very reason, which is light and very strong, making for ideal gates that stand the test of time.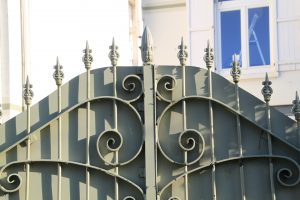 Materials
Some people prefer seasoned timber, while others prefer the rural ambience of wrought iron and let's not forget stainless steel, which is maintenance-free, doesn't rust and is easy to keep clean. Steel is another option, while aluminium is certainly the most popular choice for homeowners, for a variety of reasons. Of course, you can combine timber and metal to create the perfect design.
Automation
Installing new automatic security gates for driveways must include automation, with reliable and safe systems that can be remotely controlled. Vehicle sensors allow all family members to access in their car, which is great in heavy rain, and the gates automatically close and lock. The electric motor can be installed below ground level, in a special channel that protects it, while keeping the driveway uncluttered.
Opening Style
The terrain might dictate this; the most popular is the single sliding gate that uses one side of the property, as this does not require driveway space. A wide opening might mean a pair of swing gates that meet in the centre, opening inwards, of course. If you enlist the help of the custom gate supplier, they will show you all of your options and advise accordingly.
The entrance to your home is a major feature and when looking for automatic gates, electric is the way to go. Talk to a leading custom gate company and they will help you to design what will be a major feature of the home, boosting the value while adding character to the property.